By tsufit on Feb 28, 2018 in Advertising, Attention, Authenticity, Branding, Business, Communication, Cool Stuff, Copywriting, Customer Retention, Customer Service, Entrepreneurship, Humor, Humour, Management, Marketing, Media, News, P.R., Positioning, PR, Promotion, Publicity, Publicity Stunts, Sales, Uncategorized, viral marketing, Visibility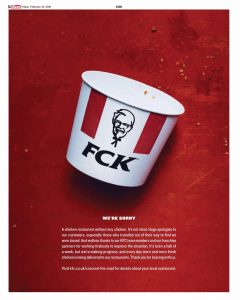 So, KFC, formerly Kentucky Fried Chicken, sells chicken.
But you can't fry what you don't have.
Sounds far fetched, I know, but KFC ran out of chicken.
Customers? Not happy.
What's a Colonel to do?
So, they took their initials, KFC, rearranged the order and put out this provocative ad.
Along with an apology.
Did it work?
What do YOU think?
How would YOU have handled this situation if you were the head hancho over at KFC?
How would you handle a similar situation in YOUR business?
Big thanks to Melonie Dodaro for the heads up on this one! And to the great Inc. article by Robbie Abed
Leave a comment