By tsufit on Sep 8, 2017 in Attention, Branding, Business, Cool Stuff, Creativity, Entrepreneurship, Influence, Linkedin Group, Marketing, Media, News, P.R., Personal Branding, Positioning, PR, Promotion, Publicity, Publicity Stunts, Social Media, story, Success, Uncategorized, viral marketing, Visibility, Word of Mouth Marketing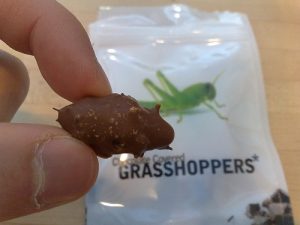 So, we're discussing crazy publicity stunts in my Step Into The Spotlight! group on LinkedIn (join us) and one of our members, Dennis Brown, shared a bizarre one, not one that he launched but rather one that he experienced first hand as part of the marketer's target audience–i.e. he got a package of chocolate grasshoppers in the mail!
It was all part of the rebranding efforts of a company called GotVMail changing its name to Grasshopper. They stuffed a 25,000 chocolate covered grasshoppers in 5000 Fed Ex envelopes and shipped them out to 5000 "influentials" like Dennis Brown. Word spread, their local Fox News station showed up as they were stuffing the envelopes with their dedicated employees. I'll let co-founder, David Hauser, share the behind the scenes stuff here.:
We all know about the famous Will It Blend? spots to sell Blendtec blenders, where a guy in a lab coat throws anything into a blender, iphones, anything, asking Will It Blend?
Tons of media.
Tons of attention.
Have you ever done anything like this?
What outrageous marketing or publicity campaigns have YOU seen?
Love to hear from you in the comments below!
Tsufit
Author, Step Into The Spotlight! : A Guide to Getting Noticed
4 Comments

on What's the most outrageous publicity or marketing campaign you've ever seen?