By tsufit on Dec 23, 2012 in Authenticity, Authors, book review, Book Reviews, Books, Branding, Business, Celebrity, Creativity, Entrepreneurial Education, Entrepreneurship, experts, Icons, Influence, Innovation, Inspiration, leadership, Motivation, music, Networking, P.R., Persona, Personal Branding, Promotion, Publicity, Sales, Show Business, Storytelling, Success, Uncategorized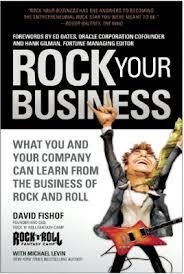 In 1978, at the end of my first year in University, I saw an article (see below) about John Davidson's Singer Summer Camp. As a young singer, I so so so wanted to audition to attend; I don't remember why I didn't apply (probably couldn't figure out the money as a kid) but I did buy his book (which I have to this day) & the idea always stayed with me.
Since the release of Step Into The Spotlight!, I've been working on creating a live Step Into The Spotlight! event, to inspire entrepreneurs & the "Suits" to– well– step into the spotlight.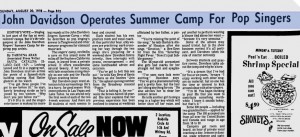 So I was delighted recently when I found out about David Fishof's Rock 'n Roll Fantasy Camp! (See video promo below.) Fishof, a fearless former sports agent, has created the ultimate fantasy event for people who want to live the rock & roll dream, play live venues with real live rock legends and have fun while learning about corporate teamwork.
I just inhaled Fishof's fabulous book, Rock Your Business and I gotta say, if you want to witness how a person can build something HUGE from nothing but some chutzpah & ideas, you have to read this book!
The best books leave you feeling like the author is a new friend. Rock Your Business did just that. Co-written by New York Times best selling author, Michael Levin (who coincidentally is featured in my Book Creation Workshop Insider Interviews), this book is brave, authentic and loaded with entrepreneurial inspiration and lessons about how to go for it.
From the story about how Billy Joel's promoter ensures that the front row seats go to raving fans (to inspire the performer), to the story of how Fishof took his Rabbi to Shea Stadium to help negotiate a sports contract (he got more than double the previous Rabbi-less offer), to the poignant story of how Fishof negotiated doubling the salary for his father, a cantor at a local synagogue, this book is full of heart and super generous with secrets to knocking it out of the park!
Read the book. Go to his camp.
I'm telling everyone 'cause this couldn't be cooler!

Leave a comment