By tsufit on Feb 1, 2009 in Books, Business Book Giveaway, Humor, Innovation, Marketing, Top Marketing Bloggers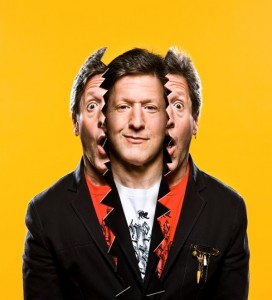 Andy Nulman is one of the coolest guys on the planet! When I was doing comedy for about 10 minutes in the '90's, this guy was the CEO of the Just For Laughs International Comedy Festival. I've long since forgiven him for giving my spot in the festival to some young upstart, Jerry Seinf– what was his name again?
Andy is one of our Step Into The Spotlight! Top Marketing Bloggers this year and I can hardly wait to read his new book, Pow Right Between The Eyes.
And YOU have a chance to get your hands on a copy! (It's NOT even on store bookshelves yet!) Yup. We're doing another Step Into The Spotlight! Business Book Giveaway!
This time, there is a catch!
1) You gotta enter your name and email in the boxes on the right, then press the "Put Me On THe List" button.
2) Then come back to this site and leave a comment about Andy's post or how you're going to step into the spotlight this year using the Power of Surprise. (Tricky, 'cause announcing it kinda kills the surprise!)
We'll select 3 comments from the people who opted in and they'll get a copy of Andy's new book! DEADLINE: Thurs Feb. 5, 2009 5 pm EST
I love Andy's guest post, 'cause my clients are always telling me they don't feel they have the credibility to do the stuff I suggest–meanwhile they're droning on about how they have 95 years experience doing blah, blah, blah…So here he is, the INcredible, Andy Nulman…
THE DREAD OF CRED
Okay folks, the lesson today is a brief, but simple one.
But first, as always is the case with me, a little preamble.
I'm currently in the throes of promoting my upcoming book "Pow! Right Between The Eyes! Profiting From the Power of Surprise" (yes, the one you can win free copies of here), and one of the tasks foisted upon authors in the promotional process is the penning of your-book's-subject-related Op-Ed pieces for magazines and influential websites.
So…how do I put this in a nice way? Let's say that one such Op-Ed piece—about applying Surprise Marketing tactics to an industry that will stay unnamed to protect the guilty—was refused by an editor on the grounds that "in the (unnamed) industry, you have no credibility."
No credibility? No credibility?
Hey babe, I've got something WAY better than credibility…
I've got what your industry, what EVERY industry, needs (especially these days).
Forget credibility; I've got INcredibility.
That, my friends, is the lesson.
The promise of a loud, eye-popping, surprising tomorrow trumps the achievements of one's past….no matter how big they are. (If this were NOT the case, John McCain would now be President.)
Last week, I spoke to a university marketing class. These 100 or so leaders of tomorrow were being "taught" by a guy with LOADS of credibility. He had written academic papers and had multiple degrees. But he was dull as cold porridge. Kids were plucking arm hairs and jabbing themselves with sharp instruments just to stay awake. They weren't learning anything; they were trying to maintain consciousness until the class came to a merciful end.
Credibility is overrated. It's yesterday's news.
Really now, who cares where you've been? Does it matter? As they say in the fine print disclaimer of every investment prospectus: "Past performance is not indicative of future results." And given the current state of the investment industry…well, you get my drift.
These days, we all live in the present, and have access to the same amount of influence. A student video can overshadow a Hollywood blockbuster. A blog post can overthrow a government. As Crosby, Stills and Nash sang: "Don't let the past / remind us of what we are not now."
These days, it's all about where you're gonna go. And, trust me, you're gonna go further if you're Incredible.
This, I know from experience.
Just kidding.
**************************************************************
Andy Nulman is the Prince of POW! After 15 years as CEO of the world's largest humor event, the Just For Laughs International Comedy Festival, Andy left to become President and CMO of mobile internet pioneer Airborne Mobile. The father of Surprise Marketing, Andy is the author of the sure-to-become-a-bestselling-book, Pow! Right Between The Eyes: Profiting From the Power of Surprise. Visit Andy's blog here.
6 Comments

on It's Another Step Into The Spotlight Book Giveaway! Andy Nulman's Pow! Right Between the Eyes!