By tsufit on Apr 3, 2018 in Advertising, Attention, Branding, Business, Cool Stuff, Entrepreneurship, Innovation, Marketing, Media, P.R., Personal Branding, Positioning, PR, Promotion, Publicity, Publicity Stunts, Success, Technology, Uncategorized, viral marketing, Visibility, Why We Buy, Word of Mouth Marketing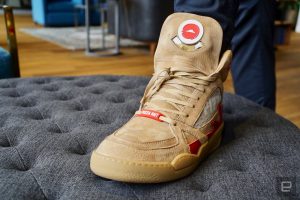 So, this is real. Pizza Hut has launched a pair of running shoes, yup, what our parents used to call "sneakers" that allows you to order a pizza from the comfort of your–shoes! You don't gotta go no place, you don't gotta do nothing, just press a button on your shoes (once you tie in your smart shoes with your smart phone) and there's even a default order in case all you have the energy for is to press the button.
Me, I'll wait for Sushi Shoes, but I gotta take my hat off to Pizza Hut, not for the shoes but for knowing how to stay in the NEWS!
First learned of this through Stephen Colbert's The Late Show monologue last week and looked it up. Yup. It's a thing.
Remember when Maxwell Smart's shoe phone seemed far fetched on Get Smart?
Is Pizza Hut nuts or brilliant?
What can YOU do to be newsworthy?
See you in the spotlight!
[Photo: engadget.com Edgar Alvarez]
4 Comments

on Is Pizza Hut NUTS? Or do we really all need to order pizza by pressing a button on our shoes?