By tsufit on Jan 20, 2017 in Branding, Business, Entrepreneurial Education, Entrepreneurship, Marketing, Personal Branding, Presentations, Promotion, Publicity, Speaking, Uncategorized, Why We Buy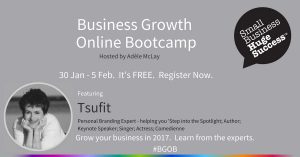 Honoured to be included in Adele McLay's Business Growth Online Bootcamp, one of 35 speakers from across the globe.
If you're an entrepreneur, expert or small business owner, you will want to tune in and soak it all up!
I was an attendee at Adele's last online summit and tuned in day after day.
Join us there by registering free here:
http://bit.ly/2ijPu7h
Tsufit
Author, Step Into The Spotlight!
Full disclosure: The link above is an affiliate link, which means that I may get a commission if you decide to purchase anything from Adele's company. I only recommend stuff that I have confidence in, so I know you'll be in good hands.
% Comments