By tsufit on Jan 31, 2016 in Advertising, Attention, Authenticity, Behavioral Economics, Behavioural Economics, Branding, Business, Commercials, Copywriting, Creativity, Marketing, Persuasion, Positioning, Uncategorized, Why We Buy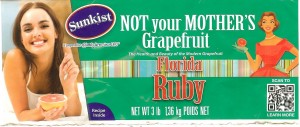 Seriously, Sunkist?
"Not your mother's grapefruit"?
You've re-invented the grapefruit?
We get that you couldn't stick "New & Improved" on the label like they do with laundry detergent, but "The Health and Beauty of the Modern Grapefruit"?
I bought 5 bags of these MODERN grapefruits this morning just in case my 4 millennial daughters don't want to eat old fashioned grapefruits!
I'm not sure if the oranges, apples and bananas I bought were the MODERN kind or the OLD FASHIONED kind, but I did cut off the label and scan it so I could share this with those of you who love advertising chutzpah as much as I do.
They could have gone the other way, the nostalgia route, like Smuckers and Kraft and Schneider's:

They did hedge their bets and kinda cover both bases with the younger woman on the left and 50's retro Mom on the right.
Kinda makes me smile and roll my eyes thinking of the Mad Men sitting in their offices, slugging back a few and coming up with this stuff which makes its way onto real live grocery store products. And they get paid to do it. Now, that's a fun gig!
And it probably works. After all, I'm pretty sure the copywriter who came up with "Lather, Rinse, Repeat" doubled shampoo sales for the rest of eternity!
So, do YOU think advertisers think we're STUPID? Comment below
Make sure you grab my Not Your Mother's Email Series on How to Say What You Do in Just 30 Seconds at www.SpotlightSecrets.com
Leave a comment