By tsufit on Mar 5, 2017 in Advertising, Branding, Creativity, Entrepreneurship, Marketing, Product Placement, Promotion, Sales, Uncategorized, Visibility
Is nothing sacred?
Can a person not eat a piece of fruit any more, without being marketed to?
Years ago, songwriter, Nancy White, lamented about the annoying task of having to deal with Stickers on Fruit in her album and song of the same name.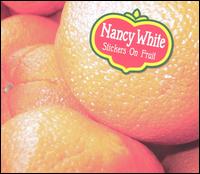 We're used to that by now.
A grapefruit usually has a little bar code or number so the cashier knows how much to charge us.
And it tells us where the fruit is from in case we're currently boycotting their California grapes or South African green apples.
Fine.
Advertising on fruit?
We're used to that too.
Taking a interchangeable commodity item (I wonder if they grow on the same trees) & branding it.
Fine.
We're supposed to believe that a Chiquita banana is VASTLY different than a Dole banana.
OK. Fine.
But get a look at what I found on my banana 2 minutes ago.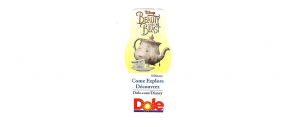 An advertisement for Disney's Beauty & the Beast on a banana?
Seriously, folks?
OK, so we've gotten used to restaurant ads in public schools and night club restrooms.
But bananas? A pure, innocent, picked-from-nature banana?
So, why am I sharing this with you?
It got me thinking of the zillions of ways there are to reach other people's audiences by riding along with their message.
We've seen how McDonald's makes special cups and toys to coincide with releases of new movies.
The fulfillment house that sends out my program's audio CDs allows us to pay to place our postcards in other people's out-going packages.
It's clear the opportunities are endless.
How can YOU ride along on someone else's platform and reach that new audience?
Something to think about, no?
Comment below & let me know if you've ever done this OR if you've seen other great examples.
Ciao for now.
Tsufit
Author, Step Into The Spotlight! : A Guide to Getting Noticed
P.S. Want my 11 free Spotlight Secrets series re how to stand out & get noticed in just 30 seconds. Grab these at www.SpotlightSecrets.com
P.P.S. Need help figuring out how to get the word out in YOUR business?
Send an email to support@tsufit.com and include your phone number.
8 Comments

on Disney Stickers on a Dole Banana? Is nothing sacred?