By tsufit on Sep 24, 2017 in Attention, Authenticity, book review, Book Reviews, Books, Branding, Business, Marketing, Personal Branding, Positioning, story, Why We Buy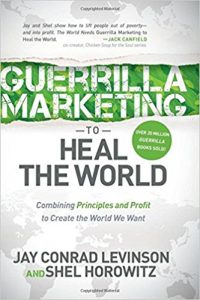 In asking this question, I'm reminded of the old Coca Cola commercial with people from every ethnicity singing on a hilltop, "I'd like to teach the world to sing in perfect harmony." Wonder if that brought harmony. Wonder if that sold Coke.
I'm thinking about this stuff 'cause I received in our Step Into The Spotlight! business book reviews an impressive looking book, Guerrilla Marketing to Heal the World from authors Jay Conrad Levinson and Shel Horowitz, published by our friends at Morgan James. It had been my honor to get to know Jay a little bit after interviewing him for my own audio CD series and when he endorsed my book. Shel, I've had the pleasure of getting to know as an active participant in my Step Into The Spotlight! community on LinkedIN. So, I was happy to dive in.
Jay passed away in 2013, so I imagine this book was already in the works, then, but hard to say. In any event, I'm guessing it was primarily written by green advocate, Shel Horowitz, whose commitment to social justice goes back many years. I learned in this book that he was even willing to be arrested for his convictions to what he believes in.
My interest is in marketing and this book speaks to that topic from many different angles, lots of philosophies and principles to consider, how success in business is not a zero sum game (abundance vs scarcity), how it's not enough to participate in "greenwashing" (assuming the mantle of green just to sell stuff), how there's no reason not to promote one's competitors (quote from B.L Ochman on that topic) and Greyston Bakery's (brownie baker for Ben & Jerry's) approach "We don't hire people to bake brownies. We bake brownies to hire people". (The last one is a twist on what I learned from Dan Kennedy who always said he doesn't get a customer to make a sale–he makes a sale to get a customer).
Love the stories re how Ben & Jerry's uses it's ice cream flavor naming to promote social change, "Yes, Pecan" in January 2009 to coincide with the inauguration of a new president. Loved the story of how recently divorced Cynthia Kersey (author of Unstoppable) considered building houses for Habitat for Humanity in Nepal, asking herself "How many houses would I need to build that would be bigger than this pain in my life?"
The book has an interesting characterization of 3 kinds of consumers, Committed Deep Greens, Lazy/Light Greens or Hostile/Indifferent Non-Greens. The Light Greens (wish they'd lose the "lazy" 'cause that's probably the category I currently fit into) who may eventually become Committed Deep Greens if nurtured properly–not if you keep calling me "Lazy". 🙂 There's even advice for how to interact in good fair with Hostile Non-Greens (more relevant than ever after the 2016 election discussions of climate change). I preferred the Bach, Beatles or Beiber listener way of honing in on one's ideal audience.
The book challenges us to tell "the story behind the story" (yup!) more difficult, it is acknowledged, when you are bringing "a product to market in a different country" and requires us to share the fact that our "commitment to a better world" has brought us across the ocean to do business.
This book covers a broad number of topics and my review just skims the surface. If you've been wondering how to add more meaning to your business, grab a copy for yourself–or get your local library to order it for you so after you read it, hundreds or thousands of others in your area can read it too.
I would encourage the authors/publisher to add forwards for all urls. They're long and only useful in a digital copy of the book. Easy enough to purchase a $10 name at GoDaddy to direct folks to Shel's You Tube interview with a hydroponic farmer from the South Bronx, perhaps www.8thfloorfarmer.com or something.
If you've read this book or others from Shel Horowitz or Jay Conrad Levinson, share your favorites below.
Tsufit
Author, Step Into The Spotlight! : A Guide to Getting Noticed
Leave a comment