By tsufit on Jun 10, 2017 in Authors, book review, Book Reviews, Uncategorized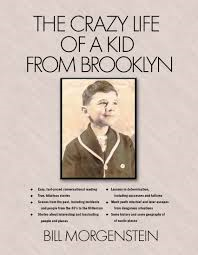 You know that song, Dueling Banjos?
So, in my case, it was Dueling Books.
Just got off an international flight with the book I started before boarding the plane and this book from the top of the heap of mail that accumulated during my 3 weeks away. Read a chapter of one, then a chapter of The Crazy Life of a Kid from Brooklyn, another chapter of the first one, another chapter of the Crazy Life book until a winner emerged.
At first, I almost didn't open it 'cause I generally only review business books and this appeared to be more of a memoir or autobiography. And it is that. But lots for those looking for business lessons as well. Lots of lessons about managing people. Like when he purposely left an imperfection for a fastidious boss to find.
Spent the day on the backyard deck in a reclining lawn chair eating fried zucchini, peanut butter and banana and devouring Bill Morgenstein's book. Hated the references to his early date's appearance but kept reading anyway 'cause this guy is fascinating. A mischievous kid to the end, we get to see this guy create trouble, escape trouble, rise in prominence and responsibility and success from escapades in Korea to travels around the world in the shoe business–it's hard to figure out how the author fit so many adventures into one lifetime and he's still at it. Don't pick it up unless you're prepared to neglect everything else on your schedule 'cause you won't be able to stop till page 323.
Truly fascinating to get a long peek into the life of an extraordinary ordinary guy.
Leave a comment