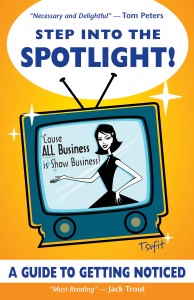 Recent Silver Medal Winner in the 2009 Axiom Business Book Awards and an Award-Winning Finalist in the USA Book News National Best Books (2008) Awards, Step Into The Spotlight! : A Guide to Getting Noticed is available at bookstores throughout North America and through Amazon.com internationally.
It's noisy out there! The marketplace is cluttered and crowded. Entrepreneurs and business people shout louder and louder in an attempt to get heard. But if you're singing the wrong note, singing it louder doesn't help!
People are shy, not only about actually stepping into the spotlight, but even about admitting that they want to. Truth be known, most people would rather be caught buying a porno flick than a book like this. But how are you ever going to reach the people you want to help if they've never heard of you, if they don't know you exist
After years of coaching entrepreneurs, and business people from all walks of life, I had an epiphany. ALL business is SHOW business! There it was, a formula for success in business that even entrepreneurs with MBAs and Ph.Ds didn't know. And it was only by being in both worlds – business and entertainment (see About Tsufit) – that I recognized it.
More and more businesses are starting to see the connection. Entire firms of lawyers are sent to study with comedy improvisation troupes. Donald Trump is adding a Hollywood production company to his business empire. Companies like Roots, Planet Hollywood and the Hard Rock Cafe understand the power of business' association with showbiz, and it shows in their success.
Many entrepreneurs are corporate refugees, yet ironically, when they strike out on their own, they follow the corporate model, the one they were so eager to escape from.
Step Into The Spotlight!™ presents a fresh new approach to marketing and promotion. In this book, I show business how to use show business to get business!
I'm on a mission to bring color to business. This book will show readers how to dig for and find their color, their buried treasure, and then polish it, showcase it, publicize it and take it to market.
See You in the Spotlight!
Leave a comment