By tsufit on Oct 31, 2012 in book review, Book Reviews, Books, Marketing, Media, Promotion, Publicity, Publicity Stunts, TV, Uncategorized, viral marketing, Word of Mouth Marketing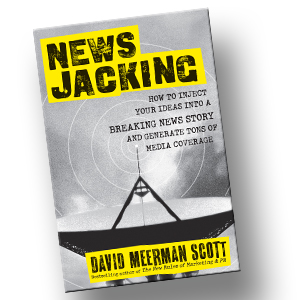 Just came across a reference to a recently released book by my friend David Meerman Scott called Newsjacking, all about "How to Inject your Ideas into a Breaking News Story and Generate Tons of Media Coverage". In fact that's the subtitle of the book.
Haven't read Newsjacking yet, but I've read several of David's other books and I'm a big Meerman Scott fan (loved World Wide Rave). I'm sure that this book will be worth more than it's weight in gold (more because the book itself doesn't weigh much; it's only available through Kindle and other digital retailers) but I urge you to check it out.
Newsjacking, one of the best forms of Piggyback Publicity, can catapult you into the spotlight quickly and build your brand. But you gotta be careful how you do it. Piggyback insensitively and you could get well known–as a jerk. Check out David's book as well as this discussion where he warns publicity seekers to be cautious when attempting to newsjack disasters like Hurricane Sandy. It's got to be relevant. It's got to be sensitive to the victims of the news event. But it can be a powerful strategy. Check out Newsjacking!
Tsufit
P.S. Don't David's books have the coolest covers?
% Comments