By tsufit on Jan 18, 2010 in About the Author, book review, Book Reviews, Books, Celebritiy, Celebrity, Entrepreneurship, Influence, Marketing, Personal Branding, Persuasion, Positioning, Publicity, Success, Uncategorized, Why We Buy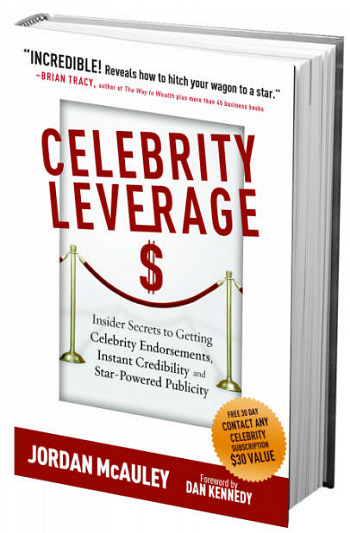 So I'm picking up my mail, a bunch of bills and flyers when I spot, buried in the stack, a bright red sparkly bubble envelope (I didn't even know they existed–I'm gonna re-use it and make someone else's day!) and already, I'm excited. What was inside was even more exciting, a hot-off-the-press copy of Celebrity Leverage with a personal note from author, Jordan McAuley.
I already knew that the book would be incredible 'cause I have had the privilege of interviewing Jordan (Disclosure!) for The Celebrity Factor.
In fact, Jordan sent me a holiday card last month with a photo of him with George Forman (holding this book, no less).
In Chapter 5 (pages 222-224) of Step Into The Spotlight!, the chapter about how to attract Publicity, I suggest that entrepreneurs should use either the Celebrity Hook, The Celebrity Once Removed Hook or the "Look Who's Wearing My Stuff!" Hook. Jordan's book, Celebrity Leverage, is about how to do all that and more.
It's not a new idea. Jordan quotes Seth Godin about Josiah Wedgewood, who, back in the 1770s, is said to have sent a breakfast set to the Queen with the result that word spread to the masses. The fact that we still have Wedgewood china today, is an indication that even back then, someone understood the power of celebrity endorsements.
It's noisy out there. The market is more cluttered than it was in the 1770′s. Business people and authors are struggling to get attention. There's no quicker way to stand out than to get in the reflected light of a celebrity or become a celebrity yourself. Jordan's book shows you how to do both.
This next part is going to sound sappy and over complimentary, so I really wish I could find something to criticize, but the book really is awesome! Overflowing with fabulous ideas about product placement, getting celebrity endorsements, creating a celebrity experience and how to get publicity for yourself as well, Celebrity Leverage will make you think about business promotion in a whole new way. And it's an easy read 'cause of all the juicy success stories.
The best kind of business book is one where you're torn between continuing to read it 'cause you "can't put it down" and putting it down anyway 'cause you're SO inspired to try out the ideas and put them into action right away. Celebrity Leverage is one of those books. I've already post-it noted several pages and I can tell that I'm going to be rereading this one several more times.
You gotta read this book!
Tsufit
8 Comments