By tsufit on Apr 15, 2014 in 30 Second Networking Infomercial, 30 Seconds in the Spotlight!, Communication, Communication Skills, Communications, Communications Skills, Networking, Presentation Skills, Presentations, Presentations Skills, Speaking Skills, Speech, Speeches, Uncategorized | Leave a comment
Lots of people do! Just received a new book in the Step Into The Spotlight! reviews stack from speaker and coach Fred E. Miller, all about how to build your "elevator speech" floor by floor.
His approach is a little different than mine but found some great stuff here like on page 12 where he quotes "Don't spend major time on minor possibilities". He's right. He suggests that the goal of the face to face "elevator speech" is to either disqualify the person or get interrupted by the person who wants to arrange to meet in the next few days. Makes sense. It's important to polarize your audience and to sift and sort and only focus where it makes sense to focus.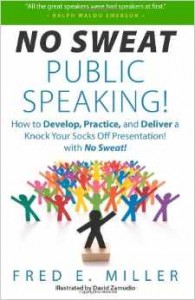 And Fred makes a very important point that one has to distinguish between the "speech" you give one on one and that you give to a group. Have you ever had someone dump his or her whole 30 seconds on you face to face. Really weird!
Fred suggests keeping it conversational. Great advice. "You never want to be too smooth when delivering any presentation. It's not a good way to relate to people. Struggling and sometimes stumbling is human. Those are frailties we can all relate to." Yup.
Grab a copy of No Sweat Elevator Speech!, a quick easy read.