By tsufit on May 24, 2016 in Attention, Branding, Business, Celebrity, Entrepreneurship, Influence, leadership, Marketing, Media, Movements, News, P.R., Persona, Personal Branding, Politics, Positioning, Promotion, Publicity, Publicity Stunts, Reality TV, Show Business, Success, Uncategorized, Visibility | Leave a comment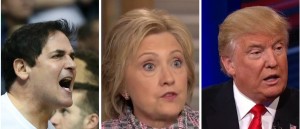 In a reality TV era, does a conventional candidate like Hillary Clinton stand a chance? Yeah she's a woman & we've never had one of those as President of the United States of America but there seems to be more energy and momentum around each of her 2 opponents (one Democratic and one Republican) than her.
Donald Trump, love him or hate him is exciting to watch. You never know what he's going to say or do. This is not just my opinion. CNN aired a scientific experiment where supporters of various Presidential candidates (back when there were more) had their brain activity tested while exposed to the candidates.
The one consistent result was that ALL brains lit up for Donald Trump, whether the people attached to those brains like him or not.
So, now the rumor is floating around that billionaire Mark Cuban might be considered as a potential VP running mate for Hillary. Pretty sure he could light up some brains with activity too!
So, what do you think? Would this be a good marketing move for Hillary's less than sexy campaign?
In Trump's case, people are worried about his lack of experience so he needs to find someone solid for VP. Hillary doesn't have to do that. She just needs someone to add more excitement to hers.
And if Trump's claim to fame is economic–after all he became a billionaire, Cuban can claim the same thing, probably without the 1 million dollar loan from his father.
I'm asking this as a MARKETING & PUBLICITY question only. No need to share what your politics are. In an election cycle where it's all about media and sizzle, would this be a good MARKETING move for Hillary?
Tsufit is the author of the irreverent marketing book, Step Into The Spotlight! : A Guide to Getting Noticed. Get Tsufit's irreverent Spotlight Secrets series free at www.SpotlightSecrets.com