By tsufit on Nov 15, 2016 in Attention, Business, Cool Stuff, Positioning, Price, Price Elasticity, Prices, Pricing, Promotion, Uncategorized, Why We Buy | Leave a comment
So, I'm in a pharmacy today and on my way to pay for my stamp, I notice a metal tin of Hangover Helper Mints for 4 bucks. Genius.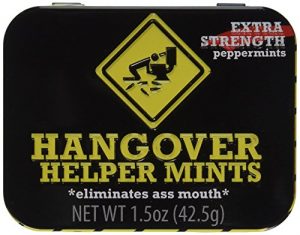 Note the Narrow Positioning: For Hangovers
Note the Tagline: "Eliminates Ass Mouth"
Note the Logo: Some guy puking into the toilet.
Note the Name Similar to a well known product name: Hamburger Helper
Note the Ingredient: Extra Strength Peppermints.
Holy Price Elasticity, Batman!
Genius!
Tsufit is the author of the wildly popular award winning book, Step Into The Spotlight! : A Guide to Getting Noticed
Grab Tsufit's 11 free Spotlight Secrets series re how to stand out in just 30 seconds at www.SpotlightSecrets.com