By tsufit on Feb 8, 2016 in Advertising, Attention, Business, Cool Stuff, Entrepreneurship, Marketing, Media, P.R., Promotion, Publicity, Social Media, viral marketing, Word of Mouth Marketing | Leave a comment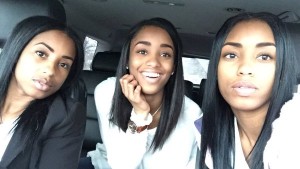 This photo of a Mom and her twin daughters has gone viral with over 60,000 likes and over 33,000 re-tweets and counting since it was posted just a few days ago. Why should YOU care?
If you're in business in the areas of cosmetics, natural health, veganism, vitamins, skin care, acne cream, raw food or documentary films in any of those areas, you might be able to be able to score an interview with the Mom (if you can figure out which one she is) and ask her to spill her secrets.
If you're in business in the areas of marketing, publicity, social media, advertising, etc., you can use this as an example of what captures people's interest and suggest ways people can learn from it.
If you're an exec at Dove or Olay or whatever goop people are putting on their faces these days or a muckety-muck at Dannon or Activia Yogurt or whatever goop people are putting in their mouths these days, you may want to be all over this, signing the trio for a commercial or a print ad for your product. Like the famous line in When Harry Met Sally, photos like this tend to provoke the "I'll have what she's having" effect.
So 2 Questions:
1. How could YOU use this photo in YOUR business (as I just did by posting this)?
2. Which one is the Mom? (No cheating guys!) Proud to say I guessed right.
Tsufit is the author of the wildly popular Award-Winning book, Step Into The Spotlight! A Guide to Getting Noticed To get Tsufit's free Spotlight Secrets series re how to stand out in just 30 seconds in business, go to www.SpotlightSecrets.com