By tsufit on Sep 2, 2016 in Advertising, Attention, Authenticity, Branding, Business, Cool Stuff, Creativity, Entrepreneurship, Humor, Humour, Marketing, Media, P.R., Personal Branding, Promotion, Publicity, Publicity Stunts, Social Media, Start-ups, Uncategorized, viral marketing, Visibility, Word of Mouth Marketing | 6 Comments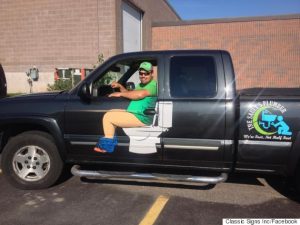 Before you can get a new client, you have to capture your prospect's attention. Here's what ONE guy did to attract attention to his new plumbing business.
Apparently he not only attracted attention locally, it's going viral. I read about this in the Huffington Post!
Would YOU ever do anything like this to attract attention to your business?
Yes or no?
Why or why not?
Comment below.
Tsufit is the author of the provocative award-winning book, Step Into The Spotlight! : A Guide to Getting Noticed. Grab Tsufit's 11 free Spotlight Secrets series re how to stand out in 30 seconds here: www.SpotlightSecrets.com