By tsufit on Apr 30, 2016 in Branding, Business, Celebrity, Communication, Copywriting, Influence, leadership, Marketing, Media, Persona, Personal Branding, Persuasion, Politics, Positioning, Publicity, Uncategorized | Leave a comment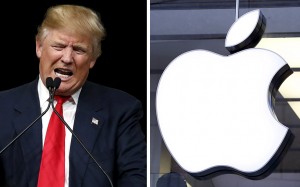 Despite his recent widely reported but short lived boycott of Apple products, Donald Trump does have ONE thing in common with Apple, (the computer company, not the fruit).
Apple & Trump are both masterful at branding & positioning their competitors!
Apple did it with a series of MAC vs PC commercials where they branded & positioned PCs as cumbersome, clumsy, outdated & complicated while contrasting Apple as being cool.

Love him or hate him (never was a phrase more apt than for The Donald), Donald Trump has succeeded, with absolutely no attempt or aptitude for nuance or subtlety, to brand his opponents as "Low energy, Jeb" (Bush), "Little Mario" (Rubio), "Lyin' Ted" (Cruz) and as one after the other these competitors fall by the wayside (we'll see what happens to Cruz on Tuesday), Trump is now starting in on "Crooked Hillary".
Trump knows what he's doing. He does it deliberately and even openly brags about his success at branding his fellow candidates in this way.
Blatant or not, it seems to be working.
Trump even made a joke in a recent speech about how well it's working. He joked about how one of Cruz's colleagues might pass him in the corridor and matter of factly and nonchalantly greet him, "Hi, Lyin' Ted!" Trump even spelled it out "l-y-i-n-apostrophe" in a recent speech, in case anyone hadn't cemented it firmly enough in his mind up to that point.
Most branding experts define branding as your audience's perception of you, or as Al Ries and Jack Trout (authors of Postitioning) might say "the position you occupy in your prospect's mind".
That said, while your branding is never totally in your own control, there's a lot you can do to influence it.
What happens if you don't?
You leave the door open for one of your competitors to do it for you! That's what Apple did to the PC. That's what Trump is doing with his competitors.
Have YOU created a position for yourself in the marketplace?
Or are you leaving a door open for your competitors to do it for you?
Tsufit is the author of the irreverent award-winning book, Step Into The Spotlight! : A Guide to Getting Noticed. To claim Tsufit's complimentary 11 provocative Spotlight Secrets series go to www.SpotlightSecrets.com
Photo Credit: http://www.telegraph.co.uk